"School of Transformation brought freedom where there was fear, and set me up to be able to walk in the path God designed for me!"
-School of Transformation Graduate
The School of Transformation (S.O.T.) has launched hundreds of students into their God-given destiny.
The 10-month school will help you go to the next level in character transformation; deepening your knowledge and application of the Bible, and training you in leadership. Students have gone on implement values learned in the school in church planting, entrepreneurship, the marketplace, the arts, and family life.
1. CLASSROOM INSTRUCTION
During our class, you will go on a journey to discover and use your unique gifts to glorify God. We meet in a large class setting, taught by All Peoples Church Pastors, as well as guests from dynamic movements, such as Bethel, Antioch and YWAM.
2. BIBLE READING & MEMORIZATION
You will read the entire Bible during your time in the school. You will also learn to memorize a wide array of verses. You will study the history of the Bible and learn fundamental theological and interpretation principles. You will also have assigned books to read and discuss.
3. CHURCH IMMERSION
The School of Transformation is connected to the life and ministry of All Peoples Church. Students are engaged in ministries of the local church and also take a leadership role in our Sunday services where they help others Get Rocked, Get Real, and Give it Away. All Peoples Church pastors, board members, and church planters frequently visit the school for training and impartation. You will also regularly be involved in evangelistic outreach throughout the city.
The school launches with an overnight retreat where you will meet your classmates and begin to form genuine community and students meet in small groups throughout the year to journey together.
4. OVERSEAS PRACTICUM
The School ends with an overseas trip that supports the church planting efforts of All Peoples Church. Students will get a chance to be on the edge of Kingdom work and see the miraculous work of God first hand in reaching every tribe, tongue, and nation for the glory of His name.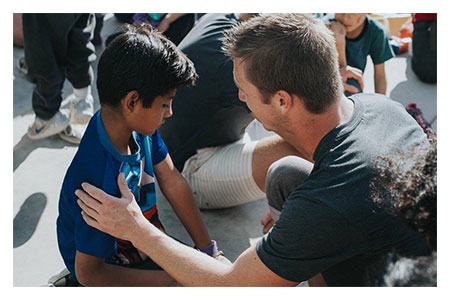 OVERNIGHT RETREAT
Rough Acres Ranch, Boulevard, CA
Friday, August 24th – Starts 3pm
Saturday, August 25th – Ends 5pm
CLASSES
All Peoples Church Campus, San Diego
Every Tuesday Evening Class:  6pm-10pm
2nd Saturday of Month Class:  9am-5pm
Every Sunday Serve and attend Services
TUITION
$1950
Includes curriculum. All other funds for the Trips must be raised.